Devon on April 11th, 2016
Jay and I did a house scouting trip around my birthday in 2016. Jay had done research on Italian properties for 6 months to a year prior to making the decision to actually move. Within 3 months of moving, we contacted a delightful British Relator, Alison Holland (in collaboration with the Alfano Consulting Agency), that moved to Italy 15 years prior. She helped us navigate the Italian real estate market with our requirements:
Within 2 hours to Rome
Within 2 hours to Florence
Private Single Family Home
No adjacent Neghibors (No views of other house's walls from windows)
2-3 Bedroom
2+ Bathroom
2,500+ Square Feet
1+ Garage
Outdoor Kitchen/Eating Area
Gated/Fully Fenced Property
Olive Grove
With our distance requirements, our area of searching focused on the "state" of Umbria. Rome is in the Lazio "state" and Umbria is the "state" just north of Lazio and East of Tuscany. Umbria is often called the country's green heart. We call Umbria Tuscany's brother. It's known for its medieval hill towns, dense forests, local cuisine including foraged truffles and wines. Umbria is a land of unspoiled natural beauty. The rolling green hills shelter hidden art towns, peaceful lakes, and ancient monasteries waiting to be explored. Lesser-known than its famous Tuscan neighbor, Umbria is often overlooked by visitors from abroad. Particularly when it comes to real estate. The environment and ambiance are dominantly the same as Tuscany, however, untapped by foreign buyers, the prices of homes are considerably less than in Tuscany.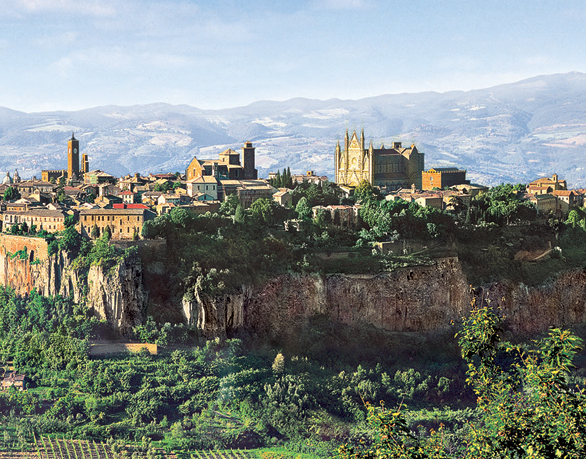 Situated 1.5 hours north of Rome and 2 hours south of Florence, our search took place in the Terni region of Umbria. We made the City of Orvieto our home base during our two-week search. According to Rick Steves, "Orvieto is one of the most striking, memorable, and enjoyable hill towns in central Italy. It sits majestically high above the valley floor atop a big chunk of Tufo volcanic stone, overlooking cypress-dotted Umbrian plains. A visit here will reward you with a delightful, perfectly preserved, and virtually traffic-free world highlighted by a colorful-inside-and-out cathedral and some of Italy's best wine." Other notable cities within 1 hour: Todi (on river Tiber), Terni (Birthplace of St. Valentine), Assisi (birthplace of St. Francis), and Perugia (capital of the Umbria).
On our visit in April 2016, we toured 6 homes that we had done research on back in Dallas. The first home we toured could not have been more perfect. Just 30 minutes east of the famous medieval hill-top town, Orvieto. It was truly, love at first sight. The property is around 5 acres with over 300+ olive trees. The native forest vegetation was allowed to thrive along 3 sides of the property lines, nestling the property into a forest pocket. The house faces south opening up over the southern olive grove allowing for an unobstructed panoramic view over the Terni valley.
The grove is split by the public street, allowing the northern part of the property (adjacent to the house) to be complete fenced with an electric vehicle gate on the private driveway. With the house being in a forest pocket, you feel completely private with no views of adjacent neighbors. Our other requirements were also perfectly matched: 3300 SF, 3 bedrooms, 2.5 bathrooms, 1 garage, and an outdoor kitchen with wood burning pizza oven. It's built as a duplex house, however, the two living rooms are connected by a french door that allows the house to be opened/used as one. In our minds, if we ever wanted to, we could close the doors and rent out the other half for extra income. After touring the other 5 properties, this property was leaps and bounds superior to anything else we viewed. Other properties had terrible views, neighbors within a few feet, steply unusable yards, dead olive groves, no fences, dilapidated pools, horrific layouts, low ceilings, extremely outdated, etc. Back at our Orvieto hotel, we made our "reservation offer" for the first property and crossed our fingers; flying back to Dallas the next day. Next post, did they accept the offer?